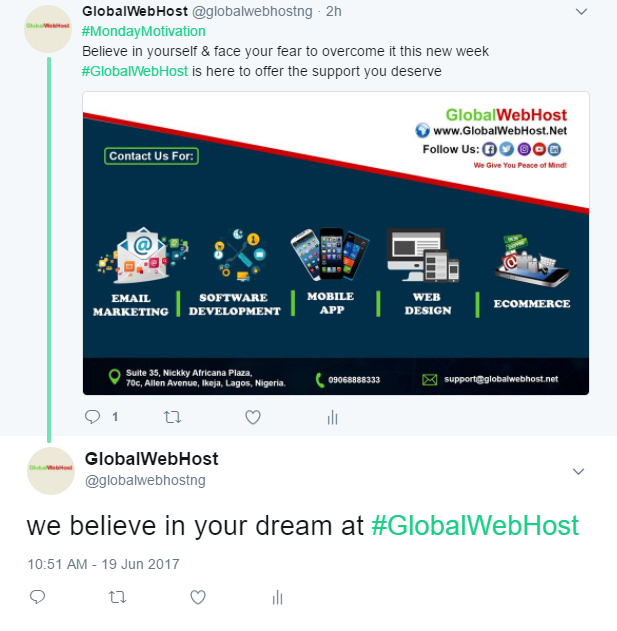 How To Use More Than 140 Characters As Tweet on Twitter – Global Web Host
In this article you will discover the little trick to use more than 140 characters as tweet on Twitter to over come the limit and send out your business/brand marketing information without alteration on Twitter.
One of the uniqueness of Twitter to other social media platform is it design to limit tweets to 140 characters there by forcing users, business/brand to compress their marketing content as much as possible to fit in the limit or miss the opportunity to reach out to potential and existing customers readily available on one of the biggest social media platform across the Globe.
How To Use More Than 140 Characters As Tweet on Twitter? – GlobalWebHost
Kindly follow the tricks below:
1) Login to your Twitter handle
2) Click on the Tweet button to open the tweet post box
3) Break your full marketing or story tweet content into 140 character each (as many as it could be)
4) Post the first 140 character and tweet it
5) On the tweeted content click on REPLY option and clear off your @twitterhandlename so you have another complete 140 character free space. Then tweet the second 140 character content which is the continuation of the first tweet. Just as seen in the screenshot above, in case your @twitterhandlename appears make sure you clear it off before tweeting the reply.
6) Repeat step (5) above, reply to the newest tweet done in the thread until all content tweeted
7) You will then observe that it has become a full content automatically linked to each other (check screenshot below) so readers can read the full tweet at ago.
8) Its usually referred to as threaded tweets.
You can give the above a trial in your next business/brand marketing tweets, instead of cutting short and compressing the converting marketing story due to the 140 Characters As Tweet on Twitter, you can have your content nested/threaded as explained above and kindly comment your observation below and don't forget to share with friends.
HOT OFFERS: We are currently offering about 60% discounts on our Hosting+Domain+Website – CLICK HERE TO CLAIM YOURS NOW